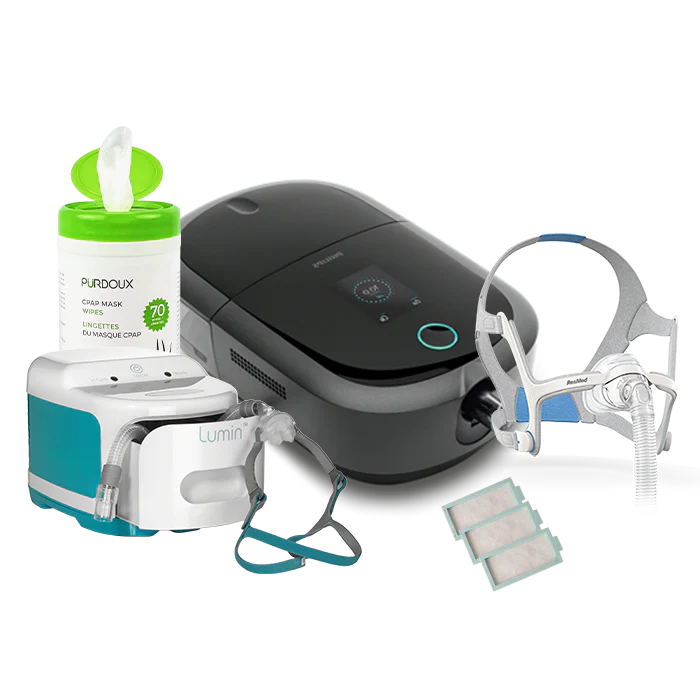 DreamStation 2 Bundle with AirFit F20 Full Face Mask & Lumin
The Philips Respironics DreamStation 2 CPAP Starter Bundle with AirFit F20 Full Face Mask comes with everything you need to get started with your CPAP therapy. The bundle includes the DreamStation 2, the carrying bag, tubing, water chamber, 2 extra filters totaling for 3 filters, the ResMed AirFit F20 CPAP mask, 3B Lumin CPAP cleaner, and 1 container of the Purdoux Aloe Vera CPAP wipes.
Due to the purdoux wipes being sold out, we will be replacing them with Snugell Wipes.
Bundle Includes AirFit F20:
DreamStation 2 Auto CPAP Machine (SKU: DSX520H11C)
AirFit F20 Mask (SKU alternatives: Medium: 63401,Small: 63400 or Large: 63402)
Power Supply
3B Medical Lumin CPAP Cleaner (LM3000)
Snugell DreamStation 2 Filters + 1 (B09N9X749L)
User Guide
Equipment from Trusted Brands
If you need assistance finding a good night's sleep, Snoosz carries the products that will give you more rest. If you need specialty products to help you sleep comfortably, you want equipment you can depend on. We carry supplies from leading brands and manufacturers in the sleep therapy industry. This guarantees you will be purchasing a first-rate product that you can depend on when you place your head on your pillow each night. Browse the full list of the brands we carry.